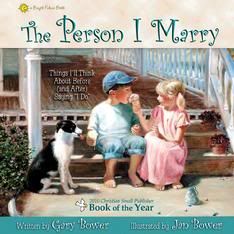 Bower Family Books
is a family-run self-publishing company that offers an array of books that are written by Gary Bower and illustrated by his wife of 33 years, Jan Bower. Together they are raising and homeschooling their 12 children in addition to publishing and marketing their books!
These beautiful books are designed instill Christian values like love, respect, kindness, honor in a way that appeals to both young and old, single or married. They are written in a way that draws the heart gently towards an ideal or Biblical principle, things that I
want
their little hearts to be pulled towards!
We were given to review a digital copy of the book,
The Person I Marry
, book two in the
Bright Future
series, which includes the titles:
The Person I Marry, What Do Heroes Wear?, The Jingle In My Pocket, There's a Party In Heaven,

and

The Garden Where I Grow

(coming in 2012)
I have to admit: I read this several times to the children and not once did I manage to get all the way through it without choking up once or twice. I really should have previewed the book before diving straight into reading it aloud with the kids gathered around me. The first time included streaming tears, horn-blowing nose, and bewildered children! It reminded me of how much I want to instill these thoughts in their minds as they grow into young men and women and begin to look for their own life partner, and, of course, reminded me of how small my time with them really is.
We read it several times, the kids enjoyed it, I managed to make it through without complete emotional melt-down (occasionally with the help of distraction - oh, look at that pretty picture! *cough*splutter*) and overall I would give this a hearty thumbs-up! I'd love to own this in hardcopy!
The only drawback to the copy we received for review was that it was a digital copy. We had to gather around the computer to read it, but we pulled up a couple of chairs, snuggled a couple of kids on my lap, and we were good to go.
The books you order online, however, are all hardcopy, so this would not be an issue for you were you to purchase one. I do think it would be neat to be able to download this onto a portable reader at some point, though, and take it with us.
The Person I Marry
is hardcover, 32 pages, and retails for $11.99.
When I first read through the book (in between the tears) I thought the style and pictures looked somewhat familiar, but it wasn't until I really read through the website later that I realized that I've seen these books in local bookstores! Located near Traverse City, MI, these folks are practically my neighbors! I've seen their
I'm a Michigan Kid!
books and I'll be keeping my eye out for others as well now.
The Person I Marry is priced very reasonably at $11.99 on their website. This title and others are currently on sale
here
.
To preview a little of this book, watch this video!
The Person I Marry from Bower Books on Vimeo.
To read what other This Old Schoolhouse Crew members are saying about Bower Family Books'
The Person I Marry
, go
here
!
I received a digital copy of this book for free in exchange for an honest review and nothing more.