As I've mentioned in previous posts, I am going to be reviewing homeschool products and services as part of
This Old Schoolhouse magazine's (found here) Blogger Crew
!
As it turns out, I'm due for my first review right smack dab in the middle of my trip out west to visit my family! That's okay, I think I have managed to bring, write down, or actually remember all of my logins, passwords, and even brought my notes with me!
Last month I received the book, "How to Have a H.E.A.R.T. For Your Kids" by Rachael Carman, Apologia Press, found
here
for $13.00.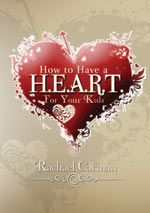 It is a small, hardcover book, a little more than 200 pages, and I really wasn't sure what to expect when I opened it. I haven't read but a few homeschooling books, and those were all sort of dry, list-making, why-you-should-be-doing-this type of books.

I guess I expected a similar experience with How to Have a H.E.A.R.T., a wheels-to-the-ground, daily routine list of ways to get that experience in my homeschooling mom's heart.

What I found instead was much better. Inside is a guide, really, to how a mother can learn to give her own heart to God, for if she does not rest wholly on Him, her heart will naturally have an agenda outside the plan that God has for her and for her children.
Aside from the introduction, which is the story of how she became a homeschooler, and the encouraging epilogue, the chapters are titled: Have a Heart for the Things of God, Enrich Your Marriage, Accept Your Kids, Release Them to God, and Teach Them the Truth, completing the acronym in the book title.
Each of the chapters have several hard-hitting statements that make you really stop and think about your own life, choices, and motivations as a parent and a homeschooler, as well as some great word picture examples to really set the thought in deeper. None moreso than the Teach Them the Truth chapter. You can tell Carman has dealt with many different types of learners while teaching her seven children; she puts forth the same idea in a few unique ways to help every single reader understand the important concepts! I have a whole bunch of that chapter underlined and notes in the margins. I really enjoyed it!
It is, of course, written from a homeschooling mom's point of view but could very easily be read and appreciated by a father or a teacher! I truly appreciated Carman's delineation of her journey into homeschooling in the introduction, with all of the gritty details and struggles against self along the way. I can relate to that so well right now as I begin this homeschooling experience!
I also appreciated the many word pictures. Some were incredibly powerful examples in nature of the way God is able to work in our lives and those word pictures will stick with me in life as well as in my heart as I homeschool.
One of the features that I did not utilize was the "Heart Checkup" set of questions at the end of each chapter. Oh, sure, I scanned through the questions, but I didn't actually answer them. I'd love to get together with a few other moms and read this together like a book club group and answer the questions within a setting that would encourage discussion.
As I read through the book, I found several things I'd like to share with other homeschooling moms I know, and by the end of the book, I had a list of them that I'd rather like to share the whole book with. I enjoyed the bright, cheerful, encouraging tone of the book as a whole and would recommend it to anyone starting out in the sometimes overwhelming and confusing world of homeschooling.
In the end, the point of "How to Have a H.E.A.R.T. For Your Kids" is really - first you must have a heart hid in Christ. There is no way on earth to love your kids fully, freely, and completely without Christ as your Supreme Guide, Friend, Father, and Counsellor. Oh, and He wants to have your heart so bad! Not just to gain your presence in His kingdom, but to gain your children for His kingdom as well!



Apologia Press is a part of Apologia Educational Ministries.


I was given this book to read and use in return for an honest review.
You can find more reviews of How to Have a H.E.A.R.T for Your Kids here
at the Old Schoolhouse Homeschool Crew blog!