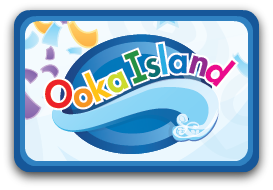 Ooka Island Adventure is a game-based learning program to teach young learners reading proficiency and bring them - upon completion - to the second grade reading level. Within the realm of a mythical island where the elves need to be rescued by the little student "adventurers", there are multi-level and sequential reading exercises and games to play to gain phonemic skills that aid in progression along the book-reading path. For every 5 books read successfully, one elf is rescued!
The 3-D graphics are phenomenal! The songs are fantastic! My kids were immediately drawn in by the colors, the sounds, and the promise of engaging activities! We had a little trouble with the avatar's head not showing up pretty much at all, but that didn't bother the kids as much as it did me!
The program is equipped with a voice recognition program that you can use with an external microphone to really take advantage of the reading help offered. Unfortunately, we don't have a microphone and we went through the books with the other option offered, reading with help. That worked just fine, however, it did make it more difficult to see how much Emmy was actually progressing for herself.
You must download a large file (try starting it just before you go to bed for best results!) and have high-speed internet in order to use the Ooka Island program, which are drawbacks for some, but well worth it if this program enables and encourages your child to read when they have been struggling!
For us, the program is at the right level for use with Emmy, my almost 6-year-old first grader. She struggles a bit with reading at the first grade level. The lower level books of the Ooka Island program were right on target for her. The graphics and 3-D type movement, however, seemed to overwhelm her. After about 20 minutes of successful time using the program, she would begin to seem very agitated and needed to unwind. Sitting with her as she played, I couldn't find any obvious reason for the agitation, such as trouble with the reading or frustration with a game or activity and could only conclude that, for her, with some sensory issues, it was too much input.
I think for kids at the same reading level as Emmy who are not dealing with sensory issues would find this to be very fascinating and engaging! It's a great alternative to non-educational computer and video games!
You can go to
Ooka Island's website
for more information and to watch videos about how their program is used!

You can go here for information on a
free 14-day trial!
You can read more reviews from the TOS Crew on the Ooka Island program
here
!
Disclaimer: We were sent this program for FREE in exchange for my honest review on this blog. No other compensation was received. All opinions on this blog are my own.