Classical Academic Press
offers an array of products for the classical teacher and student, specializing in latin and logic. "Classical Subjects Creatively Taught".
They also offer a classical Bible curriculum, which we were provided with a portion of for review! We received God's Great Covenant - New Testament 1 - A Bible Course for Children.
Right away, when you flip through the Teacher's Edition, you'll notice that there is a lot of room for notes. Each page corresponds with a page in the Student Edition but is resized to about 75% with the margins neatly lined for making notes and for the wealth of included extra detail, such as historical facts/context, expanded Bible verses, and thoughts on the historical characters' thoughts that you may want to include as you teach.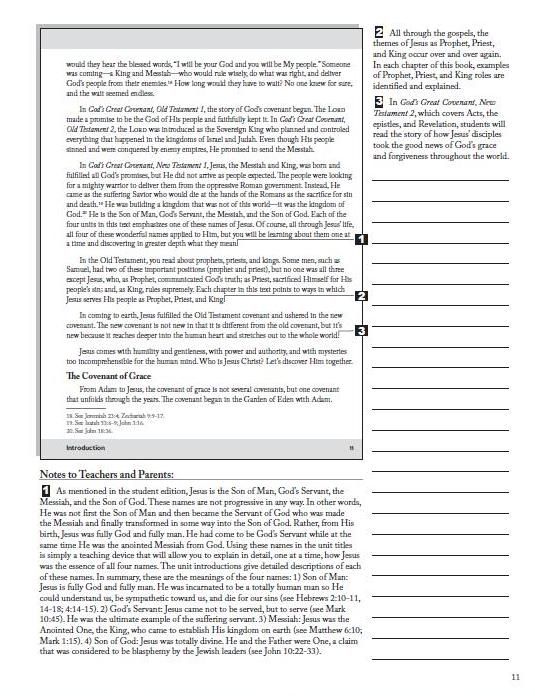 The Teacher's Edition also includes answer keys for the review pages found in the Student Book.
At about 350 pages, this in-depth study of the four gospels begins with an incredibly concise introduction, including a brief history of the Jews from Abraham until Jesus' birth, political, religious, and geographic overviews that were both fascinating and incredibly informative.
We were so fascinated by the history and the maps found in the introduction that we spent several days on that alone! Joshua (8) found the history and the concise manner in which the facts were presented to be just right. It was like he'd found a friend who "gets him". The presentation is spot-on for his way of learning, and he soaked it up like a sponge. In fact, because he is very much like his father - I had to sit down with my husband, show him the books, and just sit back and watch him get lost in the history, too. For myself, I'd never been given such a concise yet readable and engaging delineation of the history before. I learned quite a bit - just from the introduction!
In the NT:1 book we received, the review questions and work sheets were at times just above his head and he needed a little help finishing thoughts and questions that came up, but since this curriculum is aimed at 4th grade and up, I think we did pretty well! Although we also received the mp3 audio files as well, we read everything together so I would have a good grasp on what we were learning and so that I could help him with the review questions. However, it was difficult at times because it was so far above the little sisters' heads. I can definitely see where having the audio files would be greatly helpful for the older students!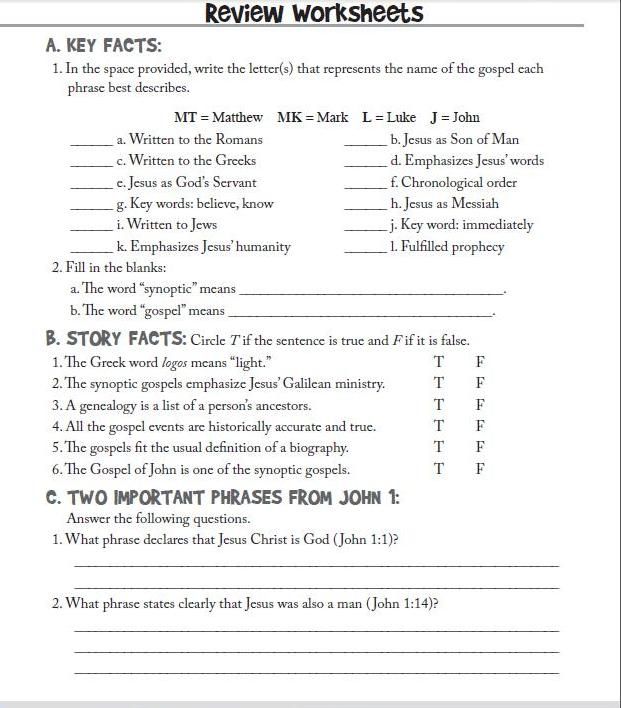 Now my husband wants to go back to the beginning and get the Old Testament books and start over! Not only that, but he wants to be the active teacher for this curriculum if we do purchase the OT sets! God's Great Covenenant Old Testament 1 starts at Genesis and begins at the second-grade level. Perfect! There is a Timeline and Map set that goes with the OT curriculum that I'm sure Colby will want, too!
I also think this would be a great option for a Sabbath School/Sunday School teacher to implement in a Primary or Junior classroom. Each chapter includes a Memory Page with a verse to memorize and a run-down of key facts for the chapter, a Story Time short story of about 2 pages, and Review Sheets, which could be used easily in a classroom discussion setting. I plan to bring this to church to show our youth teachers and if you know me in person and are interested in seeing this for yourself as well, just ask!
You can purchase these products at
Classical Academic Press
:
New Testament 1:
Teacher's Edition
- $29.95
New Testament 1:
Student Book
- $26.95
New Testament 1:
Audio mp3 files
- $9.95
New Testament 1:
Bundle
(student/teacher/audio) - $56.95
Clicking on the links for individual products will take you to the page where you can see more information including sample pages.

You can go
here
to read what other TOS Crew members are saying about this products and others from Classical Academic Press!
As always, I was provided with a copy of this product free of charge in exchange for an honest review and nothing more. My opinions are entirely my own.