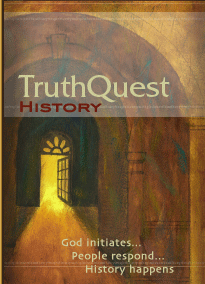 Looking for an alternative to the standard public school history textbook? TruthQuest History is a series of guides focused on sharing REAL stories of history with your children!
As printed on their guides, their philosophy is this:
"God initiates...
People respond...
History happens."
It's a radically different way to think about, study, and teach history. Rather than the human-centered perspective on history given with dry facts in order to pass multiple-choice tests, these guides, through stories that bring those facts to life, help us see how God has led the paths of people throughout history.
Let me be clear, here, though. Yes, these guides are to encourage a Christian Worldview foundation, but the books compiled in these guides are available at your local library, bookstore, or at book swaps, etc. No, these recommended books are NOT used to teach doctrine in any way, nor do you have to go to such-and-such a church to find these books in a particular sect's library.
We were provided with a pdf version of
American History for Young Students II (1800-1865)
, a guide for students grades 1-5.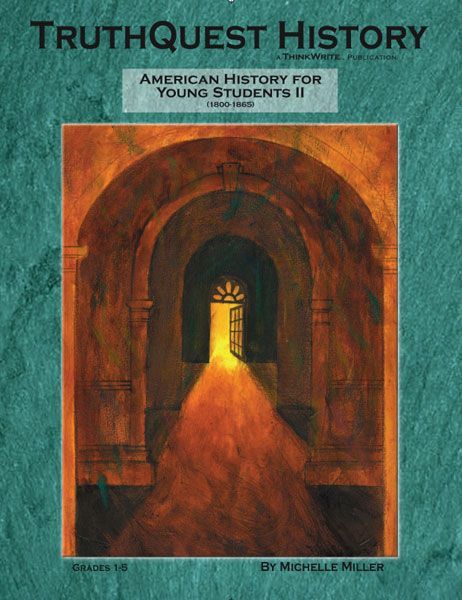 Leading out each topic is a short synopsis to read together, followed by a list of suggested reading, with "ThinkWrite" activities sprinkled in to get the feedback flowing.
The list of suggested reading is daunting, but don't let it overwhelm you! These are options - not requirements! Use the resources you have available, get picky about what you want to read, or let your child's interest sway you in a particular direction.
We decided to focus on The Civil War, in particular, The Battle of Shiloh, since we are "field tripping it" down to Tennessee for the 150th Anniversary memorials taking place the first weekend of April.
First order of business: go to the library and see how many of the reading list books I could find! I carefully printed out the wrong pages (oops!) of the pdf file and off we went. Of course, since I'd already driven the 30 miles to the library and had no intention of making a second trip unless it was absolutely necessary, I found myself taking to heart the directive: "You are always free to choose whatever is preferred or readily available." So I searched through the available resources at the library and came home with a stack of books, a few music CDs, and a huge question mark over my head. I couldn't help but wonder if I was "doing it right" or what the end goal really was.
I prefer to use all-encompassing text books. Really. Having a lesson clearly outlined, with objectives stated and comprehension questions at the end is much less stress for me! But as I plugged away at the reading and listened to the questions my kids were asking, I found that they were enjoying this way of learning and gaining a great deal from it!
Joshua (8) particularly enjoyed this subject and the way it was taught. Emmy, however, just barely put up with it. Perhaps that was because by the end of it, Joshua was marching around with his homemade drum singing, "Glory, glory, hallelujah!" over and over and over...
Three of the books I (randomly) brought home from the library were on our list and I focused on those during our reading time. I also brought home songs of the Civil War CDs and a book on crafts for kids to do. Combining these resources made a deep impression on all of us.
It was good to be pushed to think outside the box, to rely less on things that spoon-feed and a little more on real, vivid, story-telling to get history to come to life! I did not focus on any of the biographies that are integral to the timeline of the TruthQuest History Guides. But just looking through them makes me excited to think of the fun my kids will have as we read about Davy Crocket, John Deere, and Clara Barton. I was also pleased to see that one of the recommended resources for some of these stories is
Your Story Hour
, one of our family's favorite history resources!
The TruthQuest History Guide: American History for Young Students II (1800-1865) is
available for purchase here
in printed form for $24.95 or in pdf format for $19.95.
Companion resources and additional guides for all grade levels are also available.
You can go
here
to read more about how to use these guides and see the FAQs.
Go
here
to read more TOS Crew reviews on this products and others from TruthQuest History!

As always, I was provided with this product free of charge in return for an honest review. All opinions are my own.