ScienceandMath.Com
offers science experiment and math tutorial videos to help your kids learn difficult concepts and gain curiosity in the world of science.
We were sent a copy of their 2-disc DVD set: Amazing Science! Volume 1.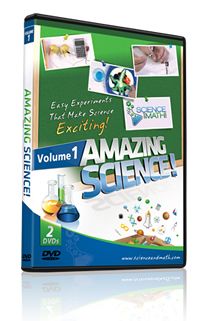 With 23 different science experiments to choose from, this video is bound to keep your family hopping for quite some time! Each chapter begins with a list of materials that you need to have before beginning the experiment. If you find that you don't quite have everything handy that you'll need - that's okay! Try a different chapter and come back to that one. These experiments are individually done and not sequential. It's fine to skip around and find ones that work for your family.
My daughters were less than excited when we opened the package. My son, however, took one look and his eyes lit up! Science! Experiments! Woohoo!
"Can I watch it
right now
?", he asked.
"Sure!", I answered. Little did I know how my plan for the rest of the day was going to completely change!
He literally watched the first experiment demonstration
standing up
in front of the TV, then he ran to the kitchen, gathering up the materials he needed to copy the Color Changing Milk experiment, shouting for his sisters to come watch, and jumped in feet first as soon as I said, "Go for it!".
He then watched several other experiment chapters and wanted to try them ALL that day, but we needed to plan a little bit for some of them. The next day he was back at it, helping me find just the right bottle, hard boiled a few eggs, and waited impatiently for Dad to get home so we could do the Egg in a Bottle experiment.
As you can see, the whole family enjoyed this one!
I do think there was room for a little more step-by-step breakdown of the basic science behind the experiments. I appreciated the detailed instructions, the list of materials needed at the beginning of each chapter, and the excitement of the presentation. More lower-level science building block information would be a beneficial addition.
There is no denying, however, that this set of DVDs excited my children, made them want to learn more about science, and was far more engaging of their little minds than any old science book will ever be. What's more, it engaged
me
.
Teaching science to my kids no longer involved me opening one more book, trying to figure out for myself how to best turn it into a hands-on learning experience, and dreading the set ups, explosions, and messes that may come with it. Instead, watching the experiments simply demonstrated for me walked me through the processes in a fun way and made it seem far less overwhelming.
Other experiments include: Build a Lemon Battery, Floating Eggs, Build a Motor with Lights, Invisible Ink, and Simple Lava Lamp.
The 2 DVD set of
Amazing Science! Volume 1
retails for
$24.95
on sale right now for $19.95!
Or download it for just $17.99!
You can also read what other TOS Crew Members are saying about Amazing Science! Volume 1 on the TOS Crew Blog!
As always, I have been given a version of this product free of charge to use in our own home in exchange for an honest review. All opinions here are my own.
And.... just for laughs... here's the post-egg-in-a-bottle out take: