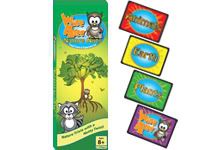 When we received the
Griddly Games Nature Nuts travel game and expansion set
, my first thought was,
uh oh, the age range starts at 8 and goes up!
How are we going to do this?!
The outside of the box says, "Nature Trivia with a Nutty Twist" and "Ages 8+, 2-4 players". I figured my 7 year old would be able to answer some of the trivia questions (I was totally surprised by how MANY he could) but how much fun would it be for him to play it with just me?
And then my kids (all ages 7 and under) found the dice. They were in colorful dice-rolling heaven as I read the instructions and then the dice kept them playing even when the little ones couldn't answer any of the trivia questions! I did modify the game a bit here and for the girls (ages 5 and 4) we played a little bit outside the "box". I let them roll the dice but chose a Wise Alec card for them each time!
The box comes with three stacks of trivia cards in these categories: Earth, Animals, Plants, and one stack of Wise Alec cards that include silly actions to do, "give your best mouse impression", tongue twisters, yoga poses to try, and list questions to answer, such as "name 5 amphibians". Each trivia card has two questions, an easier 3 point question and a more difficult 7 point question so both older and younger kids can be challenged. Also included in the box is the color coded dice and directions printed right on the inside of the box so they're never lost! The tray keeps the cards and dice in place and a magnetized flap secures it nicely.
Griddly Games products can be purchased at several game boutiques around the country, you can click
here
to go to the Griddly Games, Inc. website to find one near you, or you can find them on several websites, most notably
Amazon
where you can purchase the Nature Nuts travel game and expansion kit for $14.99 new.
Because it was a "travel" game, and we were planning on doing some traveling, we took it with us all the way out to Washington, where there were a few cousins in just the right age group to play with us!
We played with our 10 year old and 8 year old cousins, while the littlies watched and participated when we broke out the Wise Alec cards, particularly the active ones like this Yoga pose!
I was surprised by just how much the kids enjoyed this game. When we were done with the first round (we played to 50 points) they begged for another! It is definitely aimed at the recommended age range stated on the box, but we did still enjoy the game and had fun with our lower age adjusted way of playing. The only thing I didn't like about it were the somewhat flimsy cards. By the end of an hour of play several of the cards were bent or creased. It's probably best to keep the cards close by the side of mom or dad or the most responsible kid playing if you want to keep them nice.
The Nature Nuts set can be used as an expansion of the Griddly Games, Inc.
Wise Alec Family Trivia Game
, which I think my kids would enjoy very much here in a few years!
I was given this Griddly Games, Inc. product free of charge in exchange for an honest opinion and review.
You can see more information and links to more reviews on this product at the
TOS Homeschool Crew blog
.